Blinkbonnie House (Yr K - 1)
Across Kindergarten to Year 1 in newly completed Blinkbonnie House, our capacity to give all girls both individual and small group attention contributes significantly to their progress.
---
At Lowther Hall we believe that the Early Years are a pivotal time in the education of girls. It is the time where discovery leads to the building blocks of strong foundational understanding in all areas of learning. It is our desire for students to continue to explore, create and make sense of the world around them by planning learning situations where they will develop skills and understanding through inquiry and play-based activities. We also seek to provide girls with explicit teaching in the fundamentals of English and Mathematics and to lay the foundations for sound learning behaviours.
Our mission of 'Educating the whole person for the whole of life' is lived each and every day in Blinkbonnie House. We strive to build girls who will be successful in their schooling and, eventually, in the adult world. Learning how to be risk takers, resilient, independent, collaborative as well as inquisitive and creative are very important aspects of a well rounded person.
STATE OF THE ART FACILITIES
Officially opened in February 2018, the spaces in Blinkbonnie House have been designed to facilitate an approach to Early Years education inspired by the Reggio Emilia approach while supporting the acquisition of core literacy and numeracy skills. Central to this is the image of the child as competent and able to express herself in multiple ways.
Classroom spaces provide areas for girls to construct and create.
Art areas are incorporated into the classrooms so that concepts investigated in all areas of the curriculum can be explored through visual arts.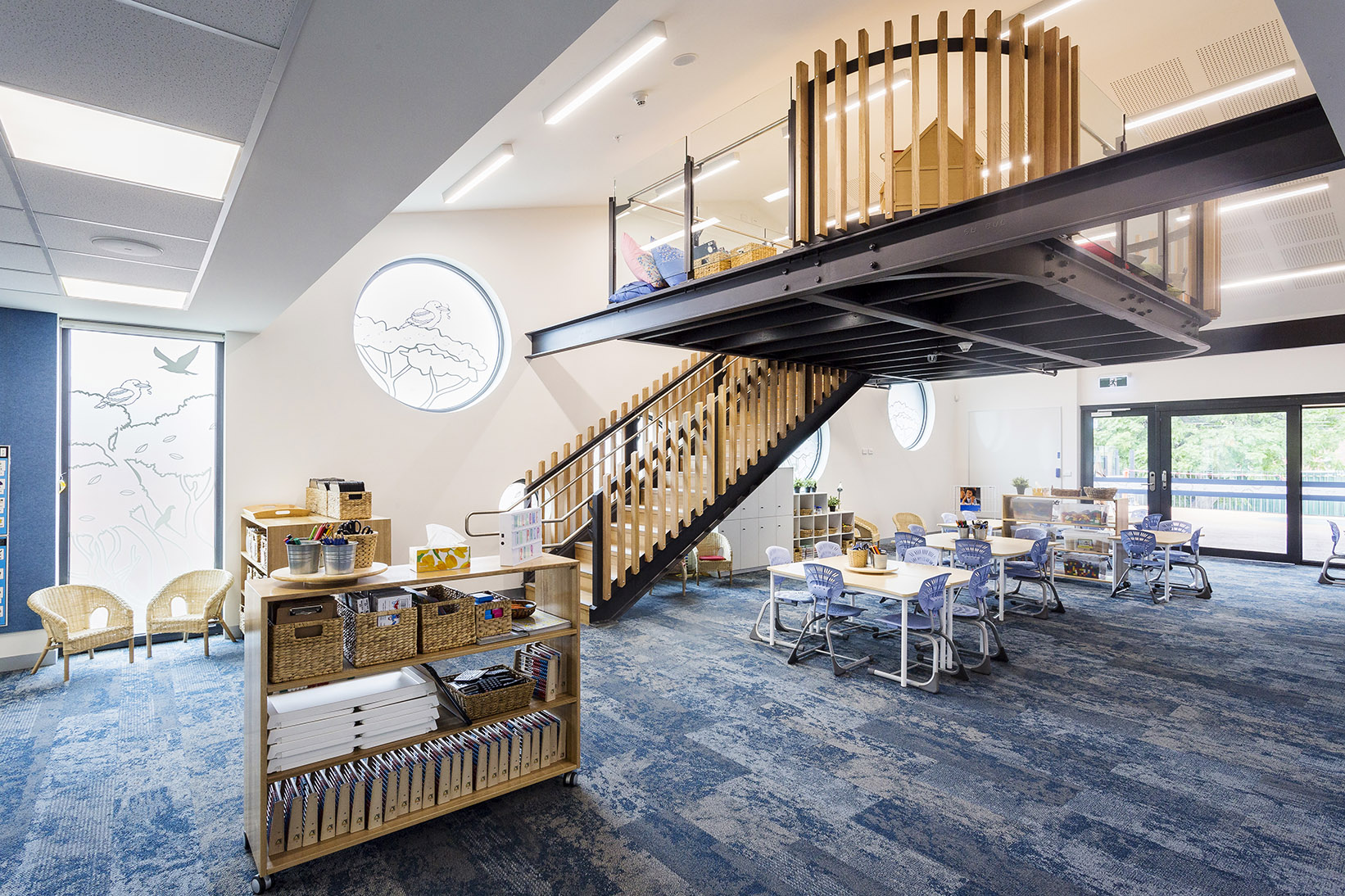 Mezzanine platforms provide areas for groups of students to read, converse or consult with staff without the confines of tables and chairs.
Physics and Engineering. Many construction aspects of the build form are deliberately visible - nuts and bolts, steel structural beams and air conditioning conduits have been left exposed so that they can be used by staff as teaching points for girls to support their understanding in concepts of physics and engineering.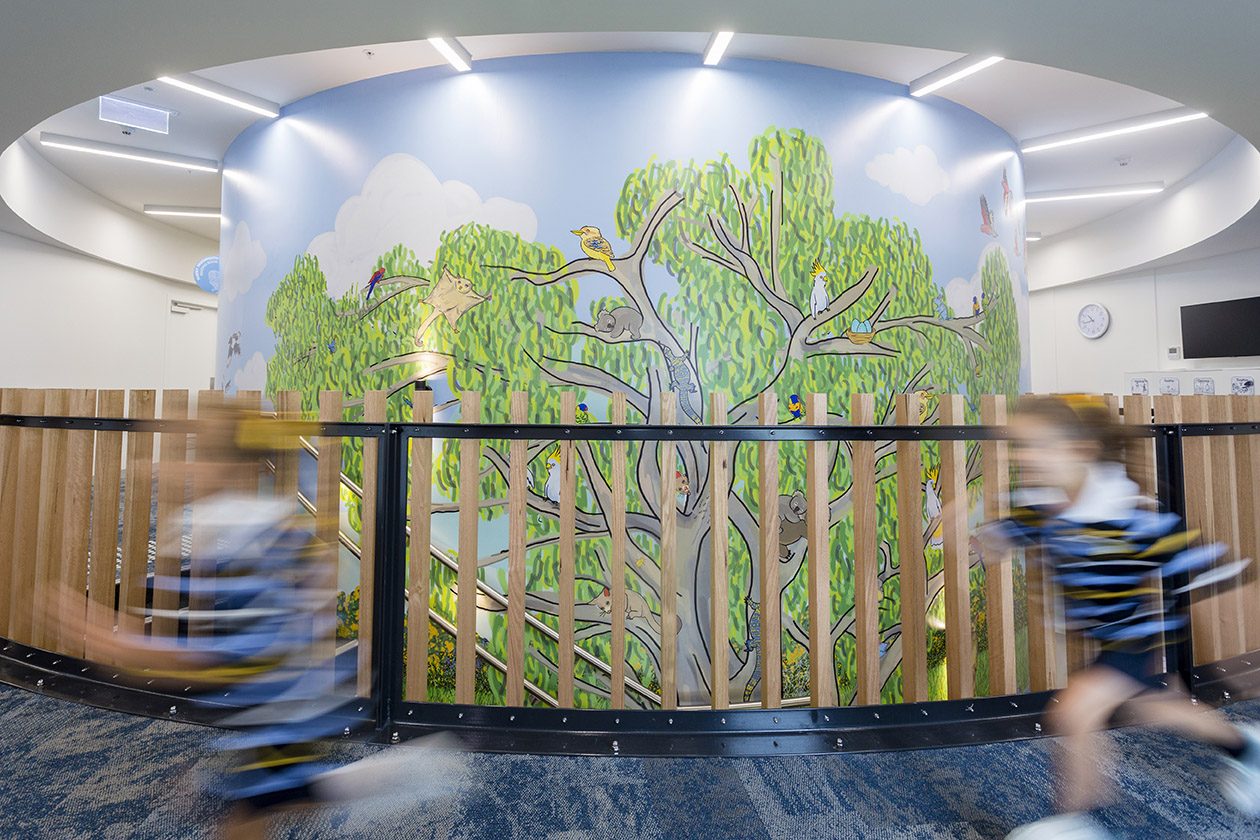 Natural World. In order to foster curiosity about and the exploration of the natural world, Blinkbonnie House is themed to represent "the sky" - first floor, "the land" - ground floor, and "the burrow" - basement, with colour schemes, decals and room names chosen to tie into these concepts. The idea is connected through the mural in the central stair drum which depicts Australian flora and fauna across these three levels.
A mini library keeps literacy literally at the centre of activities in this space and will be an area where girls, teachers and parents can enjoy reading together.
Designated areas for English and Maths enhancement and support enable us to deliver an enriching program designed by specialist mathematics and English teachers.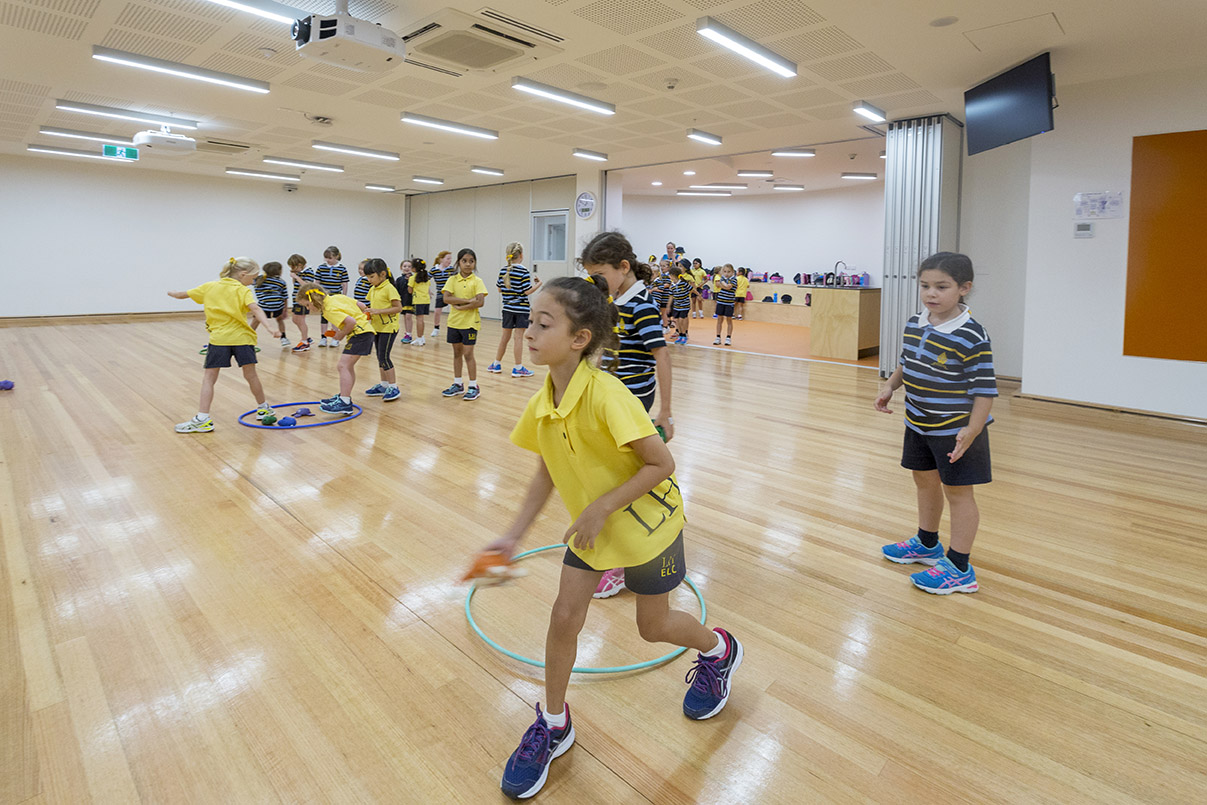 A multipurpose space houses physical education, perceptual motor program, and movement and expression classes. It is also home to Early Years Assemblies, Chapel and Out of School Hours Care.
A specialist music room has been incorporated and designed with a specific carpet pattern to support the formation of a circle for Kodaly vocal work.
The outdoor play spaces contain a range of surfaces and textures to explore as well as elements such as water pumps, bridges and streams to evoke discussion about scientific concepts. There are planters for the growing of vegetables as well as a bamboo forest. The play equipment in these spaces facilitate the development of upper body strength, coordination and physical activity.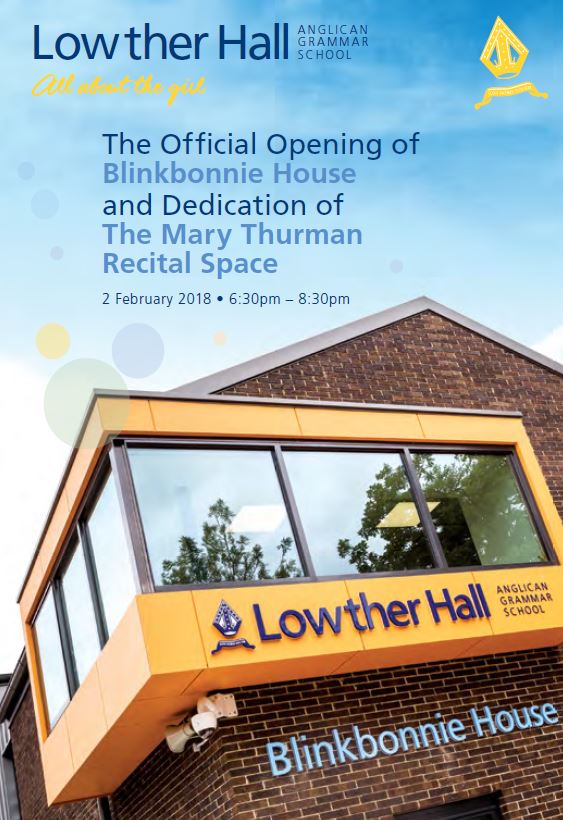 To read more about Blinkbonnie House, please view our official opening booklet by clicking on the image to right.


Blinkbonnie House Philosophy Statement