I am delighted to celebrate the 2020 Lowther Hall VCE results today. The results are outstanding and demonstrate a trajectory of improvement in both study scores and ATARs.
The Class of 2020 have demonstrated incredible resilience during this very challenging year. In navigating their VCE under less than ideal circumstances they have come to understand much about themselves and the world that will be useful in the post-school environment. We are incredibly proud of every girl who worked so hard, despite the conditions, to achieve her very best. The excellent results that have been gained this year, across a breadth of subject areas, are a reflection of the dedication of staff and students alike and their commitment to the pursuit of excellence. They also point to the foundation that was laid for these students prior to Year 12, on which girls have been able to build, in order to be successful, no matter the circumstances of Year 12. I would like to take this opportunity to thank all the teachers and other members of staff who have worked with the 2020 VCE cohort either this year, or prior, to support them to reach their potential.
Whilst we know that an education is about far more than a VCE score, it is important to celebrate the statistics associated with this significant milestone. All girls successfully completed their VCE with many individuals navigating personal challenges throughout the year as well as the broader COVID-19 context. A phenomenal 40% of ATAR scores at Lowther Hall were over 90 this year, placing these students in the top 10% of Australia. 64% of girls scored an ATAR of 80 or more (the top 20% of the nation) and half the Lowther Hall ATAR scores were above 87. 47% of graded assessments were A or A+ with a perfect study score of 50 out of 50 achieved in Visual Communication and Design. The median study score was 35 out of 50 and 21% of study scores were 40 or more, which is an outstanding result. Congratulations to all!
Summary of results:
Lowther Clarke Scholar (Dux): Helena D'Arcy 99.75
% of ATAR scores:
95+ = 13%
90+ = 40%
80+ = 64%
Median ATAR = 87.5
Median study score: 35
% of study scores 40+: 21%
% A/A+ assessments = 47%
Perfect study score in Visual Communication Design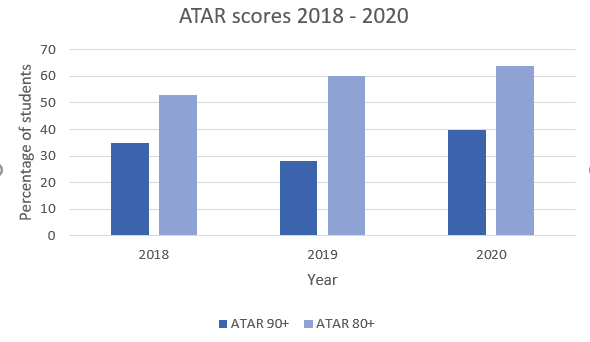 Despite the challenging circumstances, 2020 has seen an upward trend in ATAR scores at Lowther Hall. 40% of scores were 90 or more (the top 10% of the nation) and 64% of scores were 80 or more (the top 20% of the nation). As illustrated in the graph, this data represents an overall trajectory of improvement across the last 3 years.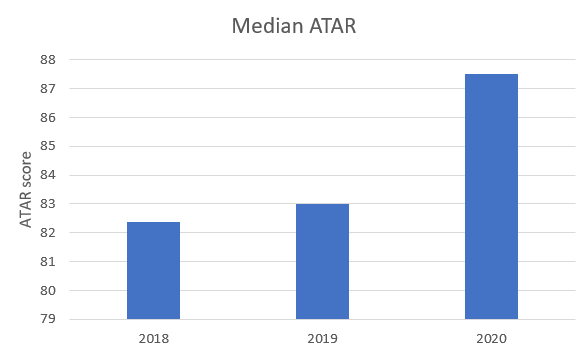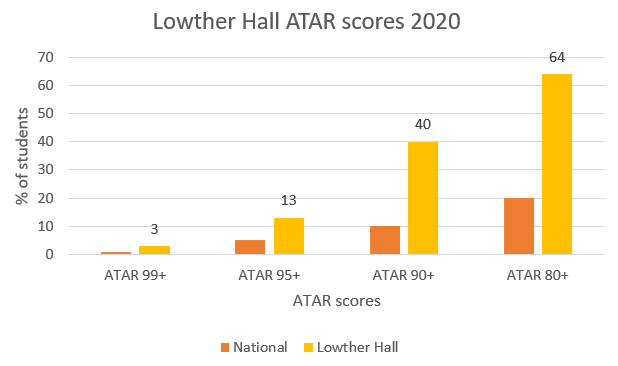 Once again, Lowther Hall girls have excelled in their VCE studies. The Australian Tertiary Admissions Rank (ATAR) is a national measure which provides all students seeking entry into University with a score, based on their Year 12 studies. Across the nation, students with an ATAR of 99 are those who are in the top 1%, 95 are those in the top 5% and so on. As demonstrated in the graph above, students at Lowther Hall are, once again, exceptionally well represented within their national peer group, with 64% of them appearing in the top 20% of the country.